Written by Zara Mahmood from LAH
At London Arts and Health we are always looking to share the work that amazing organisations are doing. We had a chance for one of our team members to join Matilde Lai on a wellbeing walk on The Line which is an art walk. The route runs between Queen Elizabeth Olympic Park and The O2, following the waterways and the line of the Greenwich Meridian.
Finding that the line had great art work and historical places towards our heritage it is  a great place to start and promote a wellbeing walk.
"The Line is London's first dedicated public art walk. Its outdoor exhibition programme illuminates an inspiring landscape where everyone can explore art, nature and heritage for free." – The Line
The wellbeing walks started during the summer break in 2021 to get people out and about during covid in order to connect people with each other as well as nature. Social Prescribers and GPs started to refer people who were feeling socially isolated, anxious and who also wanted to become more physically active. It was also a chance for people to get together and meet new faces. Walking groups also have joined in the past, clinical teams as well as university students. It was a great chance for working people to get out on their lunch breaks.
"Social prescribing is a way for local agencies to refer people to a link worker. Link workers give people time, focusing on 'what matters to me' and taking a holistic approach to people's health and wellbeing. They connect people to community groups and statutory services for practical and emotional support."
"People can be easily referred to as link workers from a wide range of local agencies, including general practice, pharmacies, multi-disciplinary teams, hospital discharge teams, allied health professionals, fire service, police, job centres, social care services, housing associations and voluntary, community and social enterprise (VCSE) organisations. Self-referral is also encouraged".
One of the first places of heritage we came across during the walk was Sugar House Island.                                                                                                                     
"Sugar House Island is named after the sugar refinery that used to operate here. Earliest records show a sugar 'distillery' owned by Elizabeth Reynolds sited where Sugar House Lane meets the High Street.The Sugar House itself is a mid-nineteenth century brick warehouse, which can still be seen overlooking Three Mills Wall River. The waterways here were vital for the processing and transporting of the sugar." – The Line
"Thomas J Price's practice engages with issues of representation and perception, playing with material, scale and detail in order to challenge viewers' expectations. Reaching Out depicts a young woman holding a mobile phone device in her hands. She is a fictional character created from various references to serve as a psychological portrait. This work continues the artist's theme of balancing experiences of isolation and connectedness, whilst acknowledging the different ways in which technology mediates our lives. – The Line
"Madge Gill (1882-1961), who lived and worked in Newham 1920-1961, was a self-taught artist. She created meticulous small-scale and monumental works, skilfully exploring different techniques and formats including paints, inks and textiles. Gill's life story is one of triumph over adversity. The hardships she endured saw her turn to spiritualism and making, both providing relief from her mental turmoil. Her drawings often feature repetitive patterns of flowers, swirling shapes, architectural forms and checkerboards." – The Line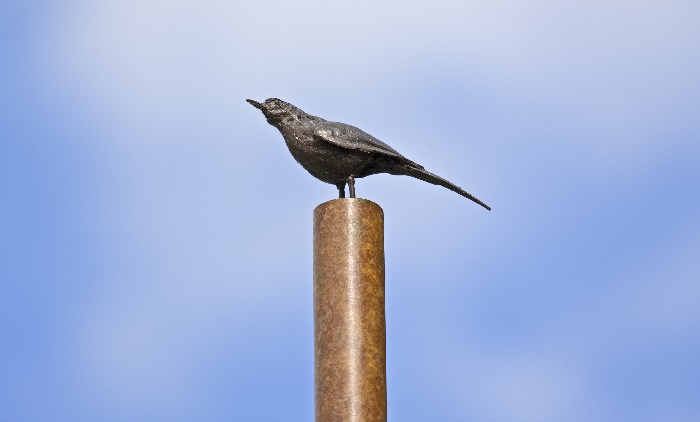 "Tracey Emin's A Moment Without You comprises five sculpted bronze birds positioned on top of a series of high poles. For Emin, the diminutive life-sized forms serve as symbols of hope, faith and spirituality: 'I've always had the idea that birds are angels of this earth and that they represent Freedom'." – The Line
"Emin has noted: 'Most public sculptures are a symbol of power which I find oppressive and dark … I wanted something that had a magic and an alchemy, something which would appear and disappear and not dominate'. There is a poignancy in the elevation of these small creatures, physically and metaphorically, as they benignly watch the world below." -The Line
The  art walk has more amazing art work and unknown historical heritage sights that should be seen and valued. The walks are usually run on Thursdays at 12pm and usually last for 30 to 40 minutes. The timings are adaptable to cater to groups or even if you wish to walk with a group of friends or by yourself.
If you would like to get in touch with the line please contact them at wellbeing@the-line.org or follow them on instagram and twitter.